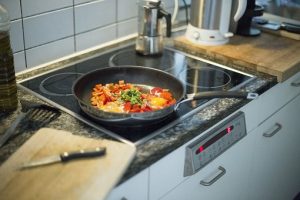 While considering the appliances needed in your new kitchen, a range hood may be among the less obvious. However, they are easily one of the most important appliances you can have in your home.
Here's a list of some of the most important benefits you will receive from purchasing and installing a range hood.
Removing Excess Heat
Whether heat is coming from your cooktop or steam is rising from your food, the suction and flow of fresh hair provided by a range hood will prevent heat from being directed at your face. This way, you can focus more on cooking rather than the sweat on your brow.
Improving Air Quality
Range hoods remove air contaminants from smoke to odors to steam to airborne grease, thus improving the air quality in your home.

Additional Lighting
With a range hood, you will have an additional source of lighting readily available for both cooking and cleaning purposes. Also, for simple tasks such as grabbing a midnight snack, why use the energy of multiple overhead lights if you can switch on one bulb above your stove?
Improves Property Value
Expert range hood installers know that not owning one of these appliances could actually lessen the resale value of your home. Many homeowners have come to expect the luxury of a range hood, so being without one (or even having one that's in need of an upgrade) may avert someone from buying your home.