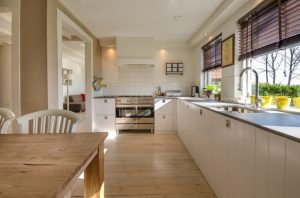 When it comes to remodeling your kitchen, there are endless styles and décor ideas that you can choose from. Here are some of the most common styles you can consider for a kitchen remodel before investing in décor and kitchen appliance installation in MD.
Traditional
Traditional kitchens typically incorporate painted cabinets with or without glass front doors, simple granite or laminate countertops, and hardwood floors. They incorporate soft, muted colors such as creams, taupes and light grays.
Rustic
A rustic-style kitchen utilizes natural materials such as wood and timber, stone, and brick. Metal/industrial-style touches are also common. Painted finishes in earth tones help create a warm and inviting space.
Cottage
Cottages naturally bring with them the idea of comfort and beauty. Homeowners can incorporate this in their remodeling by using simple patterns, soft colors, vintage accessories, natural wood accents, and old-fashioned decor themes.
Contemporary
Contemporary kitchens are the epitome of the sleek, minimalist layout. Characterized by dark wood or black cabinetry, fresh white countertops and smooth stainless steel appliances, the contemporary kitchen is functional and sometimes artistic in nature. Contemporary styles often include curves and pops of bold colors.
Modern
Modern kitchens can come in many forms. However, they are typically highlighted by neutral colors, strong lines, minimal décor and man-made materials such as laminate, ceramics and plastics.